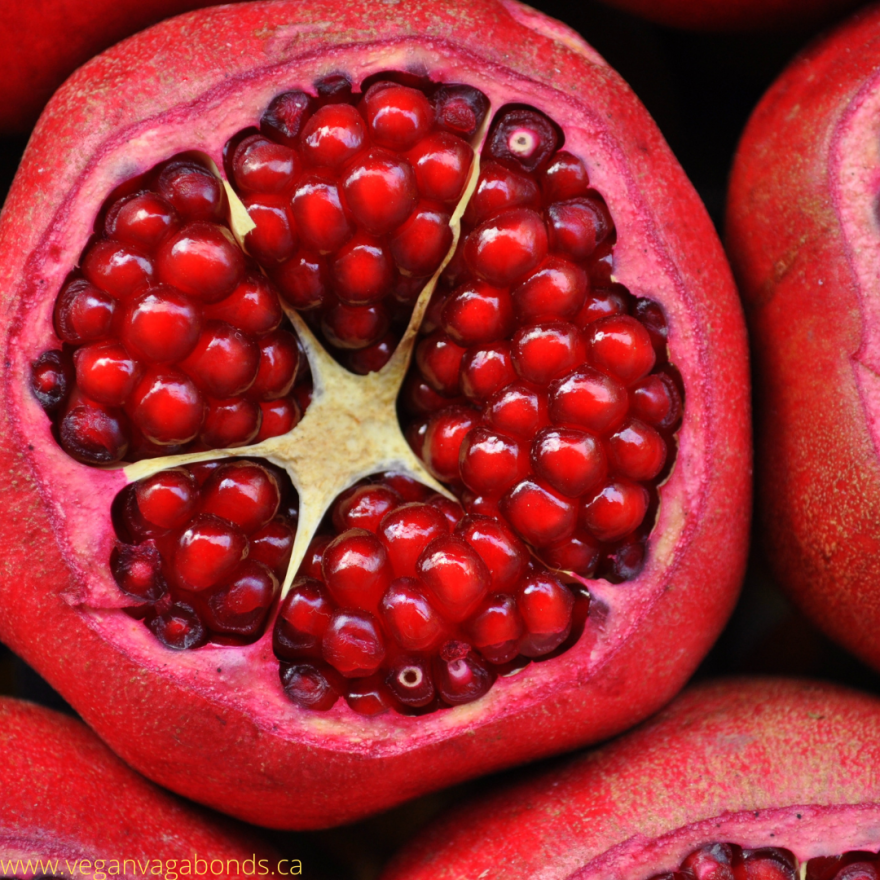 Happy New Year and welcome to 2022!
Now is the time, at least here in Canada, to partake of a magnificent fruit – the pomegranate! Affectionately known as the "pom". The little red gems (arils) it contains are a treat to behold. As soon as you bite into one, an explosion of flavour envelops your mouth!
Pomegranates are one of the healthiest foods on the planet, packed with nutrients and powerful plant compounds.
One cup of arils (174 grams) contains:
Fiber: 7 grams
Protein: 3 grams
Vitamin C: 30% of the RDI
Vitamin K: 36% of the RDI
Folate: 16% of the RDI
Potassium: 12% of the RDI
They're also very high in antioxidants and anti-inflammatory properties.
Poms maybe just going out of season, but the good news is that you can get them frozen as well. This also saves you having to try to remove them from their peel – although, I must admit, I truly enjoy opening up a fresh pom and exposing the little red seeds and plucking them from their little cells.
One of the best ways to open a pom is to slice off a bit of its bottom and top, then you score the fruit down along its peel in quarters and break open the fruit along the scored lines. I always remove the seeds under water – this helps eliminate any red juice spraying all over the place. It's also a good way to capture the seeds as the pith they come out of floats to the bottom of the bowl of water and the seeds float to the top – making it easy to capture them.
I add them to smoothies, cooked quinoa and toss some in my oatmeal. Here's a luscious salad recipe that incorporates these delicious flavour buds.
Avocado & Pom Salad
Ingredients
1 avocado

5 cherry tomatoes

½ medium-sized apple

½ small red onion

1 tbsp pomegranate juice

3 to 4 tbsp pomegranate seeds

1 ½ tsp balsamic vinegar

1 ½ cup leafy spinach,

2 tbsp freshly chopped cilantro

½ tsp salt

¼ tsp black pepper
Directions
Chop the avocado and apple into bite-sized cubes

Cut cherry tomatoes into fourths

Finely chop the onion

In a medium-sized mixing bowl, mix together spinach, avocado, onion, pomegranate seeds, cherry tomatoes, balsamic vinegar, pomegranate juice, chopped cilantro, salt, and black pepper
If you haven't tried a pom, make sure you take the time to search one out – whether whole and fresh or frozen seeds – you won't be sorry you did.
Just sayin' is all!
All the best, Lou💚
Lou-Anne Hooper
www.facebook.com/veganvagabonds1
New-to-Veganism Neighbourhood | Facebook
www.instagram.com/vegan.vagabonds1
For more information on my online course:
"The Vegan Journey: A Beginner's Pathway"
please contact me at veganvagabonds@rogers.com
DISCLAIMER: None of the information in this document is a substitute or replacement for information that should be obtained by your medical practitioner and/or registered nutritionist. Please contact these persons for answers to your health and nutritional questions.